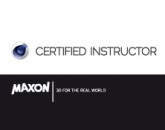 MAXON just started a new website, giving informations about certified trainings. You're now able to book trainings in Authorized Trainings Centers and to finish them by doing a certification test. Those trainings will be held by MAXON Certified Trainers.
http://www.maxon.net/de/campus/overview.html
As I had the chance to work with MAXON on this new certification system, I am also a proud MAXON Certified Lead Instructor and a Certified Trainer for CINEMA 4D. If you are interested in individual trainings or certified trainings in Germany just get in contact with me.