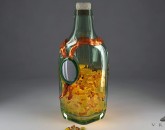 One of my new trainings that will be released by Video2Brain covers the basics of Vray for CINEMA 4D
http://www.video2brain.com/de/products-753.htm
This image shows one of the example scenes covered and combines most of the Vray materials, using displacement, translucency, refraction, reflection, Vray Blend- and Override materials.
Here is the german description about this new online Training:
Mit einem typischen Beispielprojekt lernen Sie den V-Ray-Renderer von der Pike auf kennen. Dabei zeigt Arndt von Koenigsmarck Schritt für Schritt, wie Sie Objekte modellieren und an V-Ray-Erfordernisse anpassen, Materialien erstellen und anschließend final rendern.
Dabei kommen ausführlich alle relevanten Material- und Rendereinstellungen und deren Bedeutung für das Bildergebnis zur Sprache sowie das Beleuchten und die GI-Rendermethoden. So werden Sie in wenigen Stunden fit für V-Ray und können dessen Potenzial voll ausschöpfen!
5 1/2 Stunden Laufzeit, 41 Lektionen
EUR 39,95